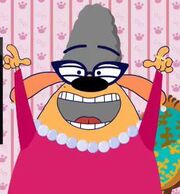 Grandma Ruffman is the grandmother of
Scruff
and
Ruff
. She gets an artichoke from Ruff every grandparents day (except on the episode
Tape Loops and Loop-the-Loops
). Grandma Ruffman says that she can't stand the way Ruff and Scruff behave when they're together. She owns a T.V that only plays in black & white.
Grandma Ruffman was the parent of one of Ruff's parents. She actually had her own game show called "The Grandma Ruffman Hour".
Background
Edit
Grandma Ruffman does not have a owner and lives in a house by herself. Her favorite show is a Cat Grooming Show. She has even said that she likes this show more than her grandson, Ruff Ruff Grandma Ruffman appears in several episodes. She appears in 1 episode of Season 1, 3 episodes in Season 2, 3 episodes in Season 3, and 1 episode in Season 4. She even appears singing with her grandson for the season 4 promo.
Appearance
Edit
Grandma Ruffman has never been seen in a full figure since she only appears on Ruff's flying T.V. screen. She wears big glasses, two big rings, and a necklace of pearls. She also wears a pink dress and has big gray hair. If you look at her deeply she has a dot on her right cheek.
Personality
Edit
She actually has a very good personality. She liked
Blossom
before Ruff did. She usually gets mad at Ruff when he isn't polite or forgets a special day. She is kind and loves both of her grandsons. She still loves Scruff even though he is in prison o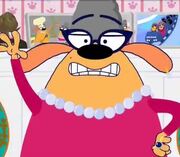 n
Poodle Island
.